Growing up I loved choose your own adventure books. I've lost sleep over decisions made in Mass Effect, and I worried about Clementine's life in Telltale's Walking Dead. Most recently Life is Strange has left me questioning how my choices will change time.
All of these games had me craving to reconnect to my childhood love of text based choose your own adventures. I quickly found there are a ton available on mobile devices, and here's a list of some of my favorites. Please share your favorites in the comments, I'm always on the hunt for something new.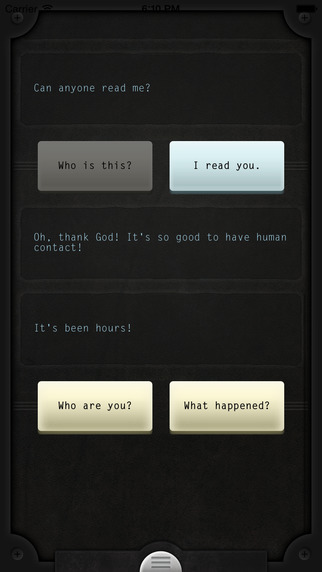 LifeLine
Available on: Android, iPhone, iPad, or Apple Watch
Three Minute Games
$0.99
A stranded astronaut named Taylor has made contact with you and needs your help. Every decision you make could help keep him alive or kill him. You'll interact with Taylor through a text like message conversation. Some of his questions will mean heading to Google to try and find a solution, or you could just wing it and hope for the best. My first playthrough I killed Taylor in the first 15 minutes, but my next playthrough I kept him alive for several days. I found myself checking my phone like Taylor was my crush hoping there'd be a message, or at least to find Taylor was still alive and just busy.
LifeLine 2
Available on: iPhone, iPad, or Apple Watch
Three Minute Games
$2.99
Using the same text based adventure style as LifeLine, but set in more of a fantasy world. In Lifeline 2 Arika cast a spell that goes wrong and ends up connected to you. She is on a quest to find her brother and your choices will keep her alive or toast her. One element I liked is she calls you by name in this game. There's more story in Lifeline 2 than Lifeline and it doesn't move nearly as fast as the first game. In the beginning you learn more about Arika's background, which I enjoyed. If you played the first Lifeline, you need to play this, but be warned she is super chatty..
Down Among The Dead Men
Available on: iPhone/iPad
inkle
$0.99
Adapted from the original story by Dave Morris.
This game/book really brought me back to classic choose your own adventure books. You pick to play as male or female, you'll also pick a background story and choose the type of world you live in. From the beginning, all of these decisions will change the course of the story. The story begins with you being kidnapped and forced to join a crew of Skarvench pirates. If you like pirates you'll enjoy the adventure this story takes you on, and the choices you'll have to make.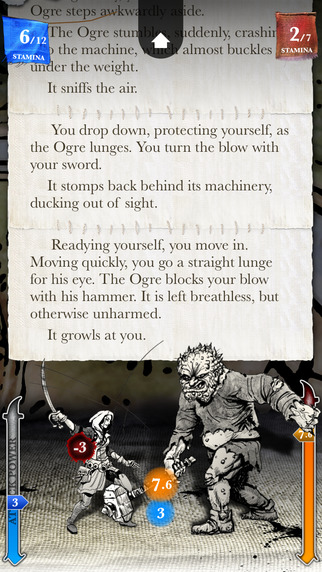 Sorcery
Available on: Android, iPhone/iPad
inkle
$4.99
When I first played Sorcery it was something completely new for me. It's a mix of a choose your own adventure with board game elements. The game is set in a mid-evilish fantasy world. Throughout the story a map will fill in as you make decisions. The map and hand drawn characters add interesting elements that many text based choose your own adventures are lacking. Sorcery 2 and Sorcery 3 are also available now.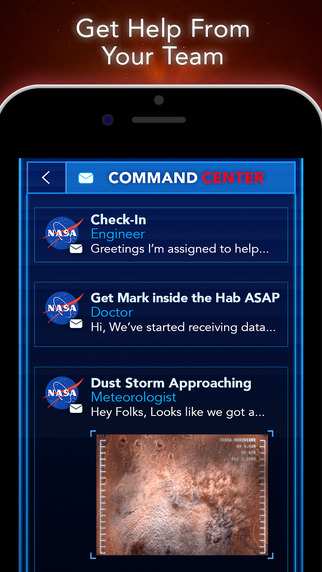 The Martian Bring Him Home
Available on: Android, iPhone/iPad
Little Labs Inc
Currently Free iOS
$2.99 Android
This game uses many elements from the game Lifeline. But relates back to the book/movie The Martian. If you love the book/movie just go play the game. If you're still on the fence I suggest playing Lifeline first. The main difference in this game is you play as a NASA communications specialist that is trying to keep Astronaut Mark Watney alive on Mars. Along the way you'll unlock different team members that will provide intel to help keep him alive. A few google searches will also help you along the way. The game didn't do anything new, but was still a fun experience.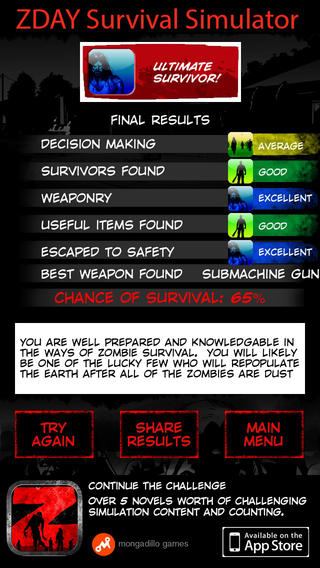 ZDay Survival Simulator
Available on: Android, iPhone/iPad
Mongadillo Studios Inc.
Currently Free iOS
$1.99 Android
What would you do in a zombie outbreak? This game will drop you in a world filled with zombies and lets you decide what you need to do to survive. The game has artwork that resembles what you see in the Walking Dead comic series. It's not as story heavy as a game like Down Among The Dead Men, but the choices are entertaining and it's fun to see what you'd do to try and stay alive. After completing the game, it will give you a chance of survival percentage.